Bridge Rail Parapet and Barrier Wall
Concrete bridge parapet and barrier wall construction are regular work functions for our crews. Parapet and barrier walls are critical for safety of the traveling public. The barriers are constructed at the sides of bridges, along roadsides with steep slopes, and as highway/road dividers. The parapets and walls provide a protective barrier to prevent vehicles and pedestrians against an adjacent vertical drop, crossing into oncoming traffic or pedestrian zones, and can be utilized for roadway lighting. The barriers are heavily reinforced with steel bar. These types of concrete barriers are designed to redirect a vehicle into a path parallel to the barrier. The barriers are designed so that impact energy is dissipated through redirection and deformation of the vehicle itself. JBI Construction has molds as specified for INDOT and KYDOT construction.
Median Barrier Wall – 33" to 96" Fixed and Variable Heights
Bridge Rail Barrier Parapet – 33" and 50" Rail Heights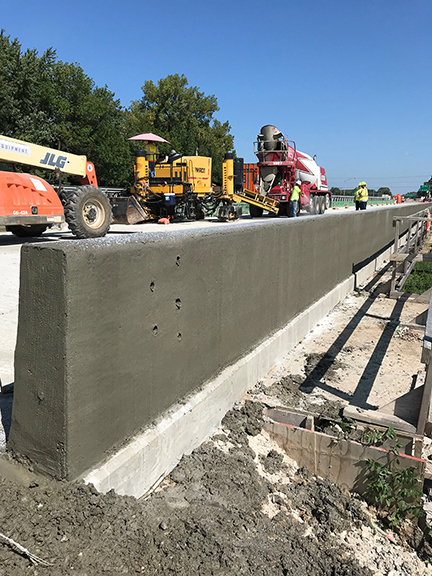 Conventional Form Concrete Construction
JBI's concrete forming, pouring and finishing crews complete many types of conventional concrete forming projects. Conventional formed projects include sidewalks and ramps, drive-ways, retaining walls, road patching, and curb/gutter. We have the capabilities to complete the total project scope from demolition of existing or damaged concrete, earthwork and site preparation, installation of sub-base materials, forming, pouring, finishing and curing.
Earthwork, Site Preparation and Demolition
JBI's fleet of large-scale earth moving equipment allow us to complete most any project. Our skilled Operating Engineers expertly handle all of JBI's equipment – backhoes, bulldozers, excavators, graders, rollers/compactors, and skid steers. We complete all of the required demolition, earth/grade work, stone placement and site preparations for our varying projects.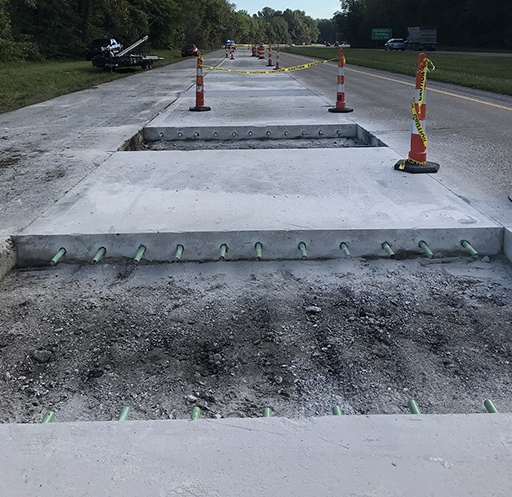 PCC Patching and Retro Fit Tie Bars
JBI completes several PCC Full and Partial Depth patching projects annually. As Portland Concrete Cement roads and highways begin to break down local, state and federal entities contract repair and replacement of these areas commonly referred to as PCC Patches. Partial Depth Patches are typically small and often only 2-3 inches in depth and cover an area less than 10-11 s.f. Full Depth Patches are used to restore localized areas of slab damage that extend beyond the upper one-third of the slab depth or originate from the slab bottom. Areas within the roadways are located and identified. Damaged material is removed via saw cutting, jackhammering/chipping or sand/water blasting. The patch area is prepared, sub-base is compacted and smoothed, and dowels bars are drilled and inserted into adjacent slab transverse sections, geotextile fabric is installed and bonding agents are applied. Concrete is then placed, finished and cured.
Slip Form Curb, Gutter, Sidewalks and Pavement
JBI owns and operates Gomaco Slip Form Curb, Gutter and Paving Equipment. Slip Forming is a process used to consolidate, form into a geometric shape and surface finish a Portland cement concrete mass by pulling the forms continuously through and surrounding the concrete mass. Slip Form equipment perform the materials spreading, screeding, vibratory consolidation, and initial finishing required for concrete paving, curb and gutter, barrier wall, and parapet railing applications. Utilizing Slip Form equipment, a lower slump concrete (0-3 inches) is necessary so the fresh concrete is able to maintain and hold its shape. Low slump concrete is made with less water and usually has a higher compressive and flexural strength. Automation and computer control allow our slip form pavers to produce very smooth riding surfaces. JBI's concrete finishing crews complete the final finishing, texturing and apply the curing membrane to the final concrete surfaces.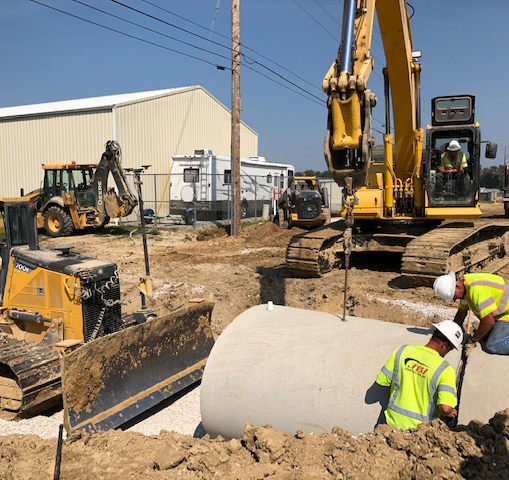 Storm Drainage Piping and Structure Systems
JBI completes the necessary storm drainage systems related to our projects. Whether this drainage is ditching or extensive under drainage structures and piping our crews have the skills and knowledge to complete any necessary systems required for the project.